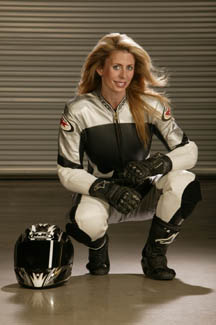 El Mirage, CA - Susan Robertson became the world's first woman to hit 200mph in the flying mile when she logged a 205.345mph run on July 17, 2005. The Team FL Makita Suzuki rider piloted her Micron exhaust equipped Suzuki Hayabusa on the dry lakebed without any problems and hopes to go faster next month at Speed Week held at the Bonneville Salt Flats.
"I had two really solid runs and I'm sure we can go faster," said 36-year-old Robertson of Newport Beach, California. "We really weren't even planning to go 200 at this event, but things went a little better than expected. We just wanted to do some testing, and came away with some favorable numbers. I really think that we can hit 210 in a few weeks, maybe even 212mph."
"We're really proud of her," said Paul Livingston of Spider Grips. "Very few people in the world have ever gone 200mph on two wheels, and it puts her in an extremely elite group of riders."
Team FL Racing is backed by Suzuki, Makita, Spider Grips, Dumonde Tech Racing Oils, High Stakes, Pole Position Raceway, Studio 38, Catalyst Composites, Bridgestone Tires, Sprocket Specialists, Micron Exhaust, NJK leathers, DC Shoe, Brosel Design, K&N Filters, NGK Spark Plugs, Hyperpro Steering Damper, Power Commander, Sports Vue, Tifosi Optics, and IHI Turbo.