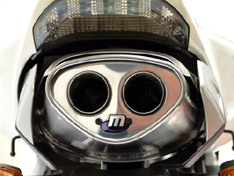 Micron dominates again our status as the World leader of innovative design and performance with the release of the all new twin outlet underseat for the Honda CBR-1000RR. No competitor can touch the Twin Outlet slip-on for style, sound and performance.
All stainless construction using the Micron exclusive Hydroforming manufacturing technique assures the maximum performance as well as fit, which combines into a design that not only looks stunning but is also the quality and style you expect from a World leader.
Our first batches of inventory are in stock and selling very quickly, be sure to get your order in immediately to avoid any delay. Contact your favorite local Micron dealer to have them place your order for you, or contact Sales directly by calling us toll free at 1-888-963-1212 (9-5 CST, M-F) and we will be happy to assist you.