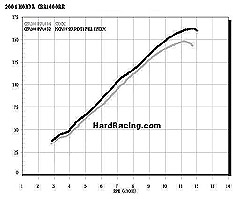 Micron announces the ultimate addition to the all new Honda CBR-1000RR, the vast range of Micron exhaust products. Whether you choose our ultra performance, hydroformed Serpent design, or the great looking range of slip-ons, you know you will get the performance and quality you are looking for.
As you can see, once again Micron challenges all competitors to match the performance of our World Superbike tested Serpent designs. Honda uses oval shaped ports on the 1000, making simple round tube exhaust manufacturer's "cringe" at the thought of offering products for such leading edge technology. World leader Micron has no trouble with such designs, and the Serpent full systems finally bring the CBR-1000RR up to the performance level it deserves in the ultra competitive performance arena. A beautiful, strong curve with power EVERYWHERE, no losses in any part of the curve! Let's see who can even come close...
Micron started the hydroforming revolution 5 years ago, and now some "followers" have started to copy our inovations, only proving the fact that our technology is far beyond the basic tube benders of the old school. Imitation IS the greatest form of flattery!
Rear fender, turn signals, license plate holder are all retained, Micron never asks customers to "cut up" their motorcycle to install a poorly engineered product.
Some competitors use generic muffler sizes that "hang out" excessively from the back and could potentially block tail light or brake light view (or worse yet attract the attention of officials), creating situations that nobody wants to be in. The Micron design is the high quality you expect and only extends the exit tip in a beautiful gleam of polished stainless steel that looks as perfect as the machine you bought. The design and muffler are specific to the CBR, so the look is just what you expect from the best in the business.
Absolutely the most stunning design we have released to date, choose your canister design and make Micron the perfect addition to your CBR. Contact your authorized local Micron dealer, or call North American sales toll free at 1-888-963-1212 (9-5 CST) and we will be happy to assist you directly.