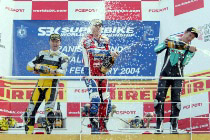 Chris Walker made racing history today by achieving the first podium finish on the Petronas FP1, the first Malaysian superbike.
In his first race for Carl Fogarty's Foggy PETRONAS Racing team, the popular British rider finished third in a nerve-jangling first race of the World Superbike season at Valencia, Spain.
FPR team-mate Troy Corser had earlier crashed out on the third lap of the day's opening race while trying to challenge for second, but escaped injury.
Chris said: "I can't believe it. This is a reflection on the incredible job that PETRONAS and our FPR team have done in such a short space of time. I never imagined I would get this result on my first race on the FP1. My mechanics have been stars this weekend. Half-way through the race I thought there was a chance of a podium so I tried to stay with Frankie Chili. Then, when I saw smoke coming out of Martin's Ducati, I knew that all I had to do was to bring the bike home. I am not usually the luckiest rider in the world so for once my luck was in."
From everybody in the world of Micron, congratulations to Foggy/Petronas, may this only be the beginning of great things to come!