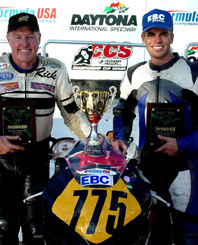 Once again the records fall, Rick Shaw in the Spring sets the all time Daytona mileage record. And if you think age limits anyone in racing...
Rick and Brian Shaw WON the 2003 Formula USA Race of Champions by 87 seconds over second place with their Micron Serpent equiped GSXR. RSR won both the GTO and overall class, not bad for a day at Daytona!
The bike was equiped with the ultra performance Micron Serpent exhaust system and the HyperPro Racing Suspension rear shock and steering damper.
As an aside, Rick commentd "if you read into some of the reports and articles, most GSXRs had a severe head shake with the new Gen Dunlops. Our bike was so stable we could one hand it thru the banks. No BS, the Hyperpro products worked great!"