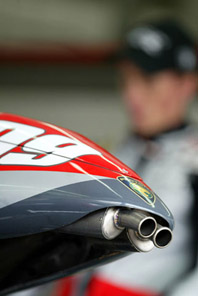 From the Kenny Roberts KR Proton News page:
Jeremy McWilliams: Second, 1:23.736 Nobuatsu Aoki: 9th, 1:24.574
Proton Team KR rider Jeremy McWilliams came within two unimaginable thousandths of putting a KR3 500cc two-stroke on pole position at the Sachsenring today. In fact, the 39-year-old Ulsterman was fastest in the session until minutes from the end, when Max Biaggi, riding a 990cc four-stroke, stole his thunder by the tiniest of margins.
Congratulations to the Kenny Roberts team for a stunning qualifying session!