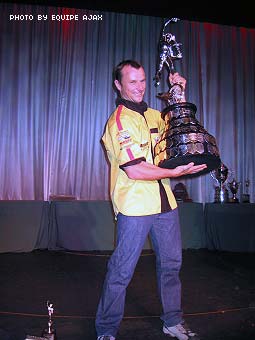 The Micron equipped Factory Triumph ValMoto scorched to a stunning and historic victory in the Isle of Man Junior TT. Triumph had not won on the Island for 28 years, however, 34-year-old Bruce Anstey and his Triumph ValMoto Daytona 600 proved to be today's dominant force around the legendary Mountain Course. Anstey finished 10.96 seconds ahead of his nearest rival.
The Micron equipped Triumph also recorded the fastest ever Supersport TT race, which he completed in 1:15.13.98, and Ryan Farquhar on the Micron backed McAdoo Kawasaki ZX-6RR recorded a new official lap record of 122.3mph.
TT racing is arguably the ultimate test of a motorcycles true performance and reliability where the courage and dedication required by its competitors is beyond comparison in the sporting arena. The Junior TT is arguably the most hotly contested of the nine races that take place during TT race week, an event that sees highly focussed Supersport race bikes take to the roads for four laps of the 37.73-mile circuit with the world's major manufacturers all well represented. But at the end of the one and a quarter-hour race, along coastal B roads and through towns where the top speeds can reach 160mph, a British bike had proven its pedigree and supremacy.
And as if winning were not enough, Micron equipped machines finished in 8 of the top 12 positions, showing the domination of Micron exhaust system technology.
Once again, when it comes to maximum horsepower, design innovation and product quality, the choice is clear: MICRON!