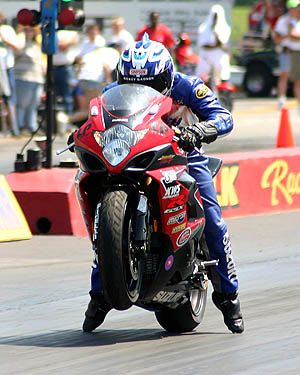 Micron Serpent exhaust equipped GSXR-1000 of Velocity Racing wins AMA Prostar 1000 SS at Norwalk
Henson raved about Supersport rider Richard Gadson—the young nephew of legendary drag racer Rickey Gadson. Richard's been to all four finals on his Suzuki GSXR since the Valdosta opener and won three of them, including this one against Vince Woska. "We're really excited with what Richard is doing, he's kicking butt," said Henson. "I'm really proud to be affiliated with him."
"This weekend, though, the bike was running faster than it's ever ran in the worst air we've ever raced in," reported Gadson.
3 out of 4 National #1's for the Micron Serpent once again demonstrates the complete domination of the Micron Serpent hydroforming technology!
Henson and his riders thanked American Suzuki, Velocity Racing, Micron Exhaust, Ward Performance, Falicon, Vanson Leathers, APE, J.E. Pistons, Marvic, Catalyst Racing Composites, Motul, Hyperpro Suspension, Millennium Technologies, KWS Motorsports and World Wide Bearings.