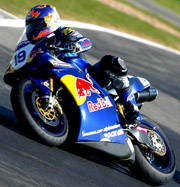 Renegade Ducati and Michael Rutter are using Micron exhausts and Micron's exclusive technology to get right back on track for the 2003 British Superbike Championship.
Rutter got his 2003 Championship campaign off to a flying start on Saturday, setting the fastest time during the 15 minute Dunlop Super 12 qualifying session to claim pole position, but things didn't go quite so well for Michael in the opening race.
Commenting on his 4th place in Round 1, "The problem with the gear change meant I wasn't able to use fifth gear for a lot of the race and that obviously caused me a few problems, as did the fact that the brake adjuster on the handlebars seized up and the front brake lever was moving further and further away from the handlebar with every lap!"
Coming back with a vengeance, Rutter beat the field and won Round 2 to give him a 1st and 4th for the weekend.
Rutter noted after the race, "Obviously I'd have preferred to come away from Silverstone with two race wins under my belt, but a fourth and a first means I'm only seven points adrift of Shakey and this is a long championship."
Rounds 3 & 4 at Snetterton are the next battles, Renegade Ducati along with Micron exhausts are keen to add two more decisive wins to their Championship hunt!