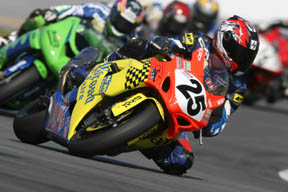 Corona Racing are proud to announce that the 2006 Corona AMA Pro Superbike Suzuki GSXR-1000's will be Micron equipped and ready to battle each race weekend.
Matching up the fully hydroformed Micron Serpent and ultralight racing canister to the GSXR-1000 has given the Corona team a serious gain in performance and a solid chance to challange again in the hottest class of AMA Pro Racing.
Look for the Corona GSXR-1000's at the track, on the podium and in your favorite local "watering" hole throughout the race season!