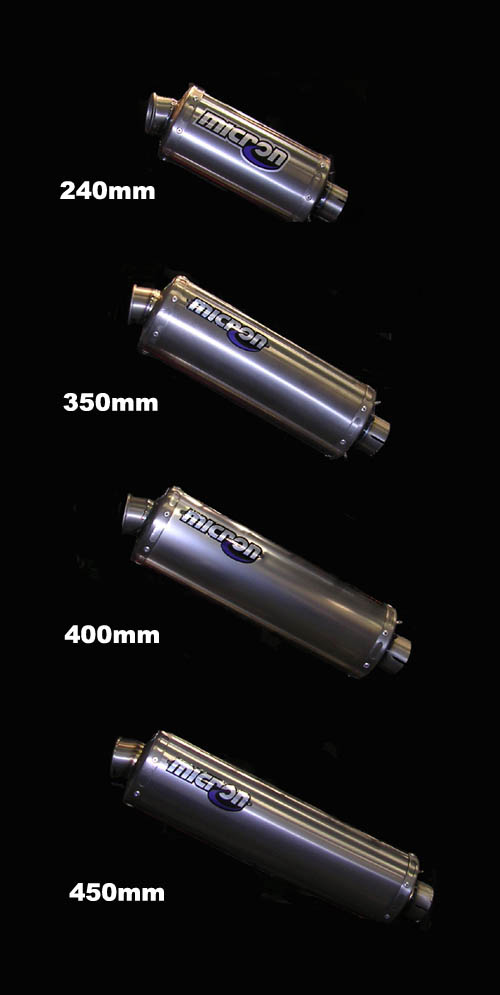 Straight from the World Championship arena, Micron is proud to annouce the release of the Ultralight titanium race muffler series.
These are the same designs once reserved for only the exclusive levels of race machines, but customer demand has brought them out of the "elite" racing world to all who desire incredibly lightweight designs combined with the widest range of applicatiions, starting at a meager 1.5 lbs of engineering brilliance!
Constructed completely of special grade titanium, Micron ULTRALIGHTS give more size options then any competitor by offering options for 450mm (standard length), 400mm, 350mm or the incredibly awesome 240mm "shorty" lengths. But no matter which one you choose, Micron adds the lightest and hottest new option to just about all the current slip-on and full system designs in our inventory!
So whether you are looking for a slip-on, race system or Serpent hydroformed race system, the ULTRALIGHTS add one more level of performance to our already unmatched line of products.
Contact your favorite local Micron dealer, or contact North American Sales directly by calling us toll free at 1-888-963-1212 (9-5 CST, M-F) and we will be happy to assist you with any application or fitment questions you might have.