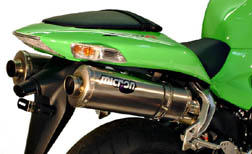 Micron again leads the industry with the release of our newest designs for the monster Kawasaki ZX-10R. As always, Micron offers the highest performance combined with the largest variety of designs, materials and colors.
Available in both twin bolt on as well as a single right side ultra high mount configuration, Micron combines the highest performance with the hottest designs in the business! And Micron offers you the CHOICE of how you want your bike to look, single or dual canisters with more color and material options then anyone in the business! Check our PHOTO GALLERY use "Kawasaki" for Make and "ZX-10R 06+" for model.
Both designs are are correctly designed installations with no cutting, hacking or drilling of any part of your machine. Micron also retains rear footrest as well as rear turn signals, so you lose nothing and gain everywhere!
Single or dual canisters, all Micron products feature full T-304 stainless construction with our extensive variety of canister sleeve materials and colors, or check out our newest addition, our ULTRALIGHT series (the lightest cans in the World!) which come straight from our World Championship racing machines. Add it all up and once again Micron is the finest addition you can make to your machine.
Contact your favorite local Micron dealer to have them place your order for you, or contact Sales directly by calling us toll free at 1-888-963-1212 (9-5 CST, M-F) and we will be happy to assist you.