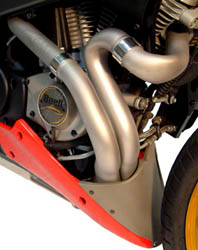 Micron WINS the Formula USA Pro Thunderbike National Championship with the RacingMotorcycles.com Buell XB-12R!
Many "say" their products increase performance on a Buell, only Micron proves it, and in top fashion!
David Estok and the Buell XB-12R dominated the season, cruising to the National Championship Title with ease in Daytona.
That the exclusive Micron Serpent exhaust system has added ANOTHER National Championship with the Buell XB-12R winning the Pro Thunderbike title should come as no surprise to anyone, but the vast array of machines Micron has won with this season alone demonstrates the un-matched level of technology in every exclusive, fully hydroformed Serpent header system.
Once again, Micron challenges all competitors to match the performance of our World proven Serpent designs. Micron is the World leader in hydroformed exhaust manufacturing, and the Serpent full systems finally bring the Buell XB's up to the power level they deserves in the ultra competitive performance arena. Let's see who can even come close...
Micron started the hydroforming revolution 5 years ago, and now some "followers" have started to copy our inovations, only proving the fact that our technology is far beyond the basic tube benders of the old school. But these companies only offer one "small" bend in hydroform, nothing even close to the craftmanship of the FULLY hydroformed Micron Serpent designs. Imitation IS the greatest form of flattery, and we are getting very flattered!
Does not seem to matter what brand, what model or what class of racing, the complete domination of the Micron Serpent headers has become the standard to beat anywhere in the World!
Leaves only one question, why would you ride with anythng else? Call us toll free at 1-888-963-1212, and experience the hydroforming performance revolution for yourself...!