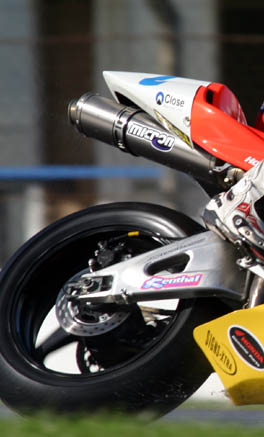 Micron Serpent equipped machines celebrated 1st, 2nd, 3rd & 5th positions in the final standings of the 2005 British Supersport Championship for a COMPLETE and TOTAL sweep of the ultra hot British Championship.
When the dust of a long racing season had settled and the wins were added up, many came to challange, but only MICRON stood on the poduim with #1, #2 and #3 for an all MICRON Championship!.
During the Championship, Padgett's rider Leon Camier had more race wins, more fastest laps and more pole positions than any other rider in the series, demonstrating that despite the advertising and "hype" of competitors, when it comes to HP, Micron Serpents are the ONLY answer! Let's face it, winning is what all of racing is about, and Micron shows who has the technology to win!
1st, 2nd & 3rd positions were all using Honda CBR 600RR's, while Pera Riba in 5th position used a Kawasaki ZX6RR – all equipped with Micron's Serpent race pipework, so it does not matter what brand you ride, Micron Serpent system's are the choice for maximum HP.
Micron's serpent race pipework is manufactured using Hydroforming technology and is the ONLY (others advertise tiny sections of their pipes being "hydroformed, but this is nothing compared to our fully hydroformed designs!) pipework in the world to be hydroformed the full length, using technology that optimizes gas flow and power. Used with Micron's all titanium Ultralite race can the Serpent pipework has once again proved to be the ultimate winning combination for any bike you ride.
Congratulations to all Micron machines, your domination of the season only proves what those "in the know" have been saying all along.
Micron Serpents and Winning Championships go hand in hand!