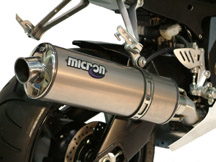 Micron again leads the industry with the release of our newest designs for the big hitting Suzuki GSXR-1000. As always, Micron offers the highest performance combined with the largest variety of designs, materials and colors.

Available in both the standard mount as well as the ultra high mount configurations, Micron combines the highest performance with the hottest designs in the business!

Standard mounts speak for themselves, a direct replacement of the OEM position with any of your choice of canister materials and colors available.

High mounts are true bolt on installations, no cutting, hacking or drilling of any part of your machine, with rear footrest relocator as well as rear turn signal relocators included in every kit. Heat shield is an "OEM" style bolt on (not a cheap muffler clamp like some others offer), maintaining the high quality look you demand.

Standard or high mount, all Micron products feature full T-304 stainless construction, Micron's unique single bolt (no rattling rivets!) canister design and our extensive variety of canister materials and colors. Once again making Micron the finest addition you can add to your machine.

Our first batches of inventory are in stock and selling very quickly, be sure to get your order in immediately to avoid any delay. Contact your favorite local Micron dealer to have them place your order for you, or contact Sales directly by calling us toll free at 1-888-963-1212 (9-5 CST, M-F) and we will be happy to assist you.