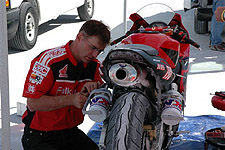 Micron once again demonstrates the absolute dominance of the ultra performance, hydroformed Serpent race systems, this time at the Bonneville Salt Flats.
"We ran two 2004 Honda CRB 600RR motorcycles. After installing the Nitrous Express kit and Power Commander box, the bike was ready for the salt. Our first run was a record breaker with a qualifying speed of 173.947; well over the old record of 165.472 set in 1992. The next day we used a little more juice than the day before and went 182.928 for a new APS-F record of 178.437. (At Bonneville there are two runs and the new record is an average of the two). We were told that this was the first time a 600cc bike has qualified for the long course – passing a required speed of 175mph. Then we did a class change and set the motorcycle up to run in the A/F class, which runs with no fairings. We made a run of 166.476 at the end of the 3rd mile, and the next day at sunrise we prepped the bike and warmed the bottles and proceeded to the start line for a record run of 168.476 and a new A/F record of 167.476. Then we did another class change and with the fairings back on, readied the Honda CBR 600RR for the MPS/F class. Rider Jason McVicar took it down the long course and set a qualifying run of 184.610mph.
We were very happy with the performance of the Micron Exhaust, and the resulting speed. Both of these new Land Speed Records are due in large part to the excellent exhausts that you built."
Once again, when the absolute finest is needed, MICRON is what the people who KNOW choose!