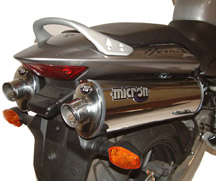 Micron again leads the industry with the release of our newest designs for the Honda CB-919 (900 Hornet). As always, Micron offers the highest performance combined with the largest variety of designs, materials and colors. Available as the ultra high mount, Micron combines the highest performance with the hottest designs in the business!

True bolt on installation, no cutting, hacking or drilling of any part of your machine, maintaining the high quality look you demand.

All Micron products feature full T-304 stainless construction, Micron's unique single bolt (no rattling rivets!) canister design and our extensive variety of canister materials and colors. Once again making Micron the finest addition you can add to your machine.

Contact your favorite local Micron dealer to get yours now, or contact Micron directly by calling us toll free at 1-888-963-1212 (9-5 CST, M-F) and we will be happy to assist you.