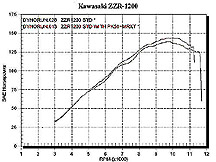 Micron is pleased to announce the release of our newest design for the Kawasaki ZZR-1200. As always, Micron offers a strong, smooth torque curve and maximum performance combined with the largest variety of designs, materials and colors.

Crafted of the finest stainless steel, the Micron 4-2-1 full systems retain oil filter and drain bolt access while giving you the ultimate in power, sound and style! Only Micron is able to offer your choice of over 20 materials and colors ranging from polished aluminum to the ultra trick scorched titanium, so you can "tailor" your bike to be as individual as you like.

No cutting, hacking or drilling is required for installation, our systems are straight bolt to your machine with all the brackets and hardware included. You expect quality engineering and Micron delivers.

Contact your favorite local dealer, or call Micron directly, toll free at 1-888-963-1212 and our sales staff will be happy to assist you.