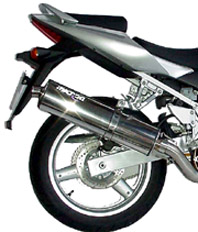 From the leading performance company in the world of the Suzuki SV-650 racing (numerous National Championships already!) come the all new Micron full systems in standard and high mount.
Crafted of the finest stainless steel, the Micron 2-1 full systems offer the ultimate in power, sound and style! Only Micron is able to offer your choice of over 20 materials and colors ranging from polished aluminum to the ultra trick "scorched titanium", so you can "tailor" your bike exactly as you need.
Don't settle for some "cheap" clamp on exhaust because a company cannot engineer a performance product, go with the best! No cutting, hacking or drilling is required for installation, our systems are straight bolt to your machine with all the brackets included. You expect quality engineering and Micron delivers.
Contact your favorite local dealer, or call Micron directly, toll free at 1-888-963-1212 and our sales staff will be happy to assist you.