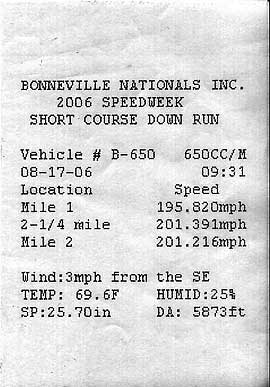 Falkner Livingston Racing runs 600cc motorcycle to over 200mph.
Wendover, UT. August 17, 2006 - Falkner Livingston Racing set a new top speed for a 600cc open wheel motorcycle with their turbo charged Honda CBR600RR at Bonneville Salt Flats Speed Week.
FL Rider Jason McVicar set a new top speed on the 3 mile course. He averaged a speed of 195.820 over the first mile, and in the second mile he averaged 201.216mph (323.48kph). The motorcycle ran in the 650cc MPS/BG class. McVicar reported "The Honda felt very strong, and after the second run I felt sure that this bike would be able to break the 200mph barrier."
Team principal Paul Livingston said "It took the cooperation of all our sponsors to make this 600 go over 200. We all worked together over the last two years towards the goal of becoming the first 600cc motorcycle to run at over 200mph."
Falkner Livingston Racing would like to thank their sponsors: Alpinestars, American Honda, Bridgestone, Brosel Design, BST, Carbon Spider, Catalyst Composites, Design 500, Digatron, Dumonde Tech, DynoJet, Garmin, Goodridge, Greddy, Greg's Customs, Hyperpro Steering Dampers, K&N, Micron Performance Exhausts, NJK, NGK, Nitrous Express, Power Commander, Pit Bull, Pole Position Raceway, Race Tech, Shoei, Spider Grips, SportVue, Sprocket Specialists, Stomp, Tiger Racing, and Tifosi Optics.