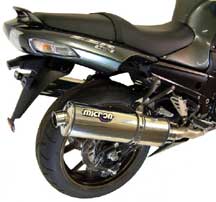 The slip-ons for the Kawasaki ZX-14 have arrived with all the color and material options available, so choose as you wish!
Full stainless construction, Micron now offers the option of the standard 2.25" core race design can, or the all new "Delta Plus" series with removeable baffle for "quieter" when you need it while still having the ability by removing the baffle insert to increase the sound and performance to a straight thru 2" core for trackdays or other types of events.
The Photo Gallery has more images, then if you need, call us toll free at 1-888-963-1212 or Shop Online anytime, 24 hours a day.
Let us know if you have any additional questions, we will be happy to assist you via email, or you can contact us toll free at 1-888-963-1212.