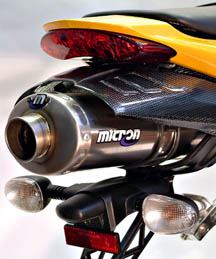 Micron is pleased to announce the release of our race slip-on line of products for the all new Triumph 675.
Micron was of course the exhaust of the ONLY World Championship Triumph has won in the past few decades, so although some might say that "they" are for Triumph's, only Micron has actually proven itself to be of the highest performance when it counts!
Available with your choice of polished, carbon fibre, chrome, titanium, scorched titanium and all the color options canisters, Micron once again brings you the most choices to make your machine everything you want it to be.
The Photo Gallery has more images, then if you need, call us toll free at 1-888-963-1212 or Shop Online anytime, 24 hours a day.
Let us know if you have any additional questions, we will be happy to assist you via Email, or you can contact us toll free at 1-888-963-1212.