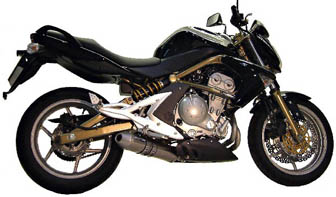 Micron again leads the industry with the release of our newest designs for the Kawasaki Ninja 650. As always, Micron offers the highest performance combined with the largest variety of designs and materials.

Leading the way are the Micron slip-ons, true underbody designs that require no cutting or hacking. Great looks, fantastic sound and lighter weight all add up to a quick and easy upgrade for your machine!

Best of all, the slip-ons upgrade as well to the full systems, so if you choose to start with the slip-on, and later decide to upgrade again to the full system, you can purchase the header alone and use the slip-on you already have. A great way to get started, knowing that you have the option to do more at a later date.

We have also decided to give the Ninja 650 our highest level of engineering by offering the race system in the Micron exclusive, fully hydroformed Serpent design. The same engineering and performance that we use to race and win in World Superbike and AMA Pro Racing is the basis for the hottest full system anywhere for the Ninja 650.

Contact your favorite local Micron dealer to get yours now, or contact Micron directly by calling us toll free at 1-888-963-1212 (9-5 CST, M-F) and we will be happy to assist you.